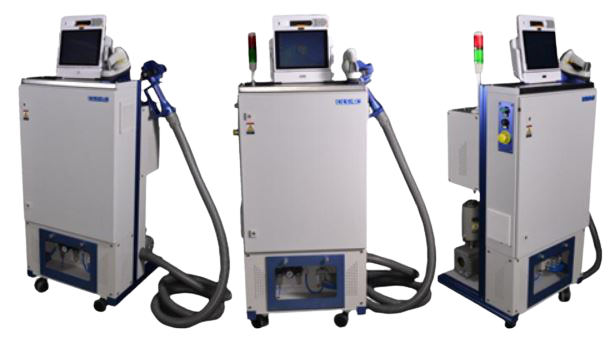 Máy sạc dòng RC là một giải pháp hoàn hảo cho khả năng sạc chính xác cao và tốc độ nhanh, tích hợp nhiều công nghệ tiên tiến và ưu việt.
ĐẶC ĐIỂM
Khả năng phù hợp, có thể sạc chất làm lạnh R22, R134a, R407c, R410a, vv.
Kết hợp chế độ hoạt động linh hoạt, có thể sạc một chất làm lạnh hoặc sạc hai chất làm lạnh cùng một lúc
Hiệu suất hoạt động ổn định. Đồng hồ đo lưu lượng lớn, máy bơm, vv các thành phần chính được sản xuất bởi nhà cung cấp hàng đầu thế giới, đảm bảo độ chính xác và tốc độ sạc.
Các yếu tố khoa học và con người được đưa vào ý tưởng thiết kế, sử dụng điều khiển màn hình cảm ứng PLC + LED, tương tác giữa người với máy dễ dàng và nhanh chóng, mở rộng chức năng mạnh mẽ. Nó có cổng kết nối giao tiếp, có thể kết nối với máy quét mã vạch, máy in nhãn, IPC v.v.
Công nghệ kiểm soát tiêu thụ môi chất lạnh tiên tiến trong ngành, tối ưu hóa không gian bên trong súng nạp.
Trong khi sạc ở tốc độ cao, chất làm lạnh còn lại trong súng sạc bị giảm hiệu quả
Không ngừng khám phá và đột phá, đổi mới mang tính cách mạng hàng đầu của công nghệ điều khiển trong ngành
◆ Công nghệ hiệu chuẩn thông minh điều khiển chính xác;
◆ Công nghệ cảnh báo giám sát lượng sạc trực tuyến;
◆ Công nghệ chẩn đoán lỗi thông minh
◆ Công nghệ kiểm soát nước ngưng tụ đặc biệt của vòi sạc, ngăn chặn độ ẩm hiệu quảvượt tiêu chuẩn.
BẢNG TIÊU CHUẨN
Model
RC-11
RC-21
RC-41
RC-61
Type
1 Súng nạp
02 Súng nạp đồng thời
04 Súng nạp đồng thời
06 Súng nạp đồng thời
Refrigerant
Liquid non-explosive refrigerant such as R22, R134a, R407c, R410A
Metering System
Mass flow meter
Charging Speed
20g/s-260g/s
Accuracy
Charging amount: 50~1000g,±3g
Charging amount: >1000g,±0.3%
Pumping Speed
4L/s or 8L/s (Settable)
System Vacuum
≤10Pa
Charging gun
1
2
4
6
Gun Length
4m(customizable)
Quick Coupler
1/4″, 3/8″ customizable
Control System
PLC+Touch screen
Function System
Bar code scan, Label print, IPC,etc
Language
Chinese,/English/Japanese and others
Power
2KVA
4KVA
6KVA
8KVA
Voltage
380V/50HZ
Compressed Air
0.5-0.7MPa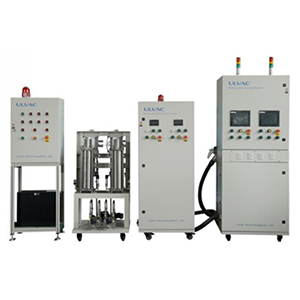 Ex-RC Series Charging Machine has excellent explosion proof safety protection, providing high accuracy & high speed solution. Multiple advantage and leading technology, your necessary choice for quantitative production.
FEATURES
Strictly design and manufacture the machine according to China's Light & Chemical Industry Standard QB/T 2912-2007 " Safety Technical Requirements for Using Isobutane As Refrigerant in Household & Similar Refrigerating Appliances Industry "

Ri

gorous scientific demonstration, the Explosion Proof Charging Machine has obtained "Explosion Proof Certificate" issued by China's national authorized testing agency

Universal adaptability,be able to charge R290, R32,R600a etc. flammable & explosive refrigerants

Flexible operating mode combination, possible to charge one refrigerant or charge two refrigerant simultaneously

Stable operation performance, mass flow meter,pump etc. main components adopt world leading supplier,ensuring charging accuracy and speed

Ergonomics human factor is taken into design concept, employ PLC+LED touch screen control, human-to-machine interaction is convenient, strong function expansion, communication connection port can be connected with bar code scanner, IPC etc

Persistent exploration & breakthrough, leading revolutionary technical transformation of control technology in industry


◆ Accuracy control intelligent calibration technology
◆ On-line charging amount monitoring alarm technology
◆ Failure intelligent diagnosis technology
◆ Charging gun refrigerant consumption control technology


APPLICATIONS
Applicable for on-line quantitative charging of flammable & explosive refrigerant, such as, R290, R32, R600a


CONFIGURATIONS
Explosion-proof Pressure Booster Station: includes pressure booster unit, stabilization unit and control system.

Explosion-proof Charging Machine: includes evacuation unit, metering unit, charging machine and control system.

Safety System: includes flammable gas concentration monitoring system,blower control unit, positive pressure control system; UPS system.


SPECIFICATIONS
Model
Ex-RC102
Ex-RC202
Ex-RC402
Ex-RC602
Type
1 Refrigerant
2 guns charging simultaneously
4 guns charging simultaneously
6 guns charging simultaneously
Refrigerant

Liquid non-explosive refrigerant such as R29, R32,R600a,including non explosive refrigerant

Metering System

Mass flow meter

Charging Speed

R600a:≥20g/s R290:≥40g/s R32:≥150g/s

Accuracy



R

600a charging amount 15~100g,±0.5g 100~200,1g >200g,±0.5%

R290 charging amount 50~200g,±1g over 200g,±0.5%

R32 charging amount ≤1000g,±3g >1000g,±0.3%

Pumping Speed

4L/s or 8L/s (Settable)

System Vacuum

≤10Pa

Charging gun
1
2
4
6
Gun Length

4m(customizable)

Quick Coupler

1/4″, 3/8″ customizable

Control System

PLC+Touch screen

Function System

Bar code scan, Label print, IPC,etc

Language

Chinese,/English/Japanese and others

Power
2KVA
4KVA
6KVA
8KVA
Voltage

380V/50HZ

Power Supply

Emergency power supply is integrated into safety system